Individuals and Families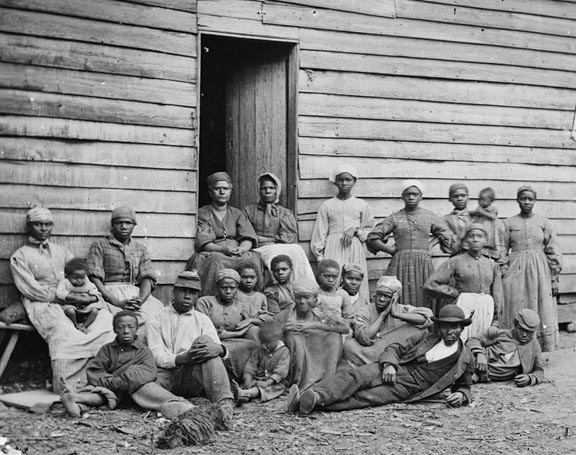 "Contrabands" at Cumberland Landing, Virginia, 1862.
Library of Congress.
The Friends of Freedmen's Cemetery would like to make available to the public not only primary resources containing references to many individuals but also articles and blurbs relating to exceptional and "typical" individuals and to the genealogies of families. Some are previously published and others are transcriptions, extracts or summaries from primary sources. Many are accounts of runaway slaves, some who merely passed through Alexandria. The researcher should not expect to find fully developed biographies or family trees here, but visitors to the site are encouraged to submit their own information on Alexandria families or figures (to the message board or for posting on this page) and to use the thumbnail sketches here as a point of departure for further research.
Please remember that many of the historical documents and excerpts cited were created during the eighteenth, nineteenth and early twentieth centuries and reflect prevalent attitudes and language used at the time.
Anderson, Samuel
Ball, Joseph
Ball, Oscar D. (John Delaney)
Banks, Henry
Bayne, Richard
Botts, Mary Mildred
Burns, Anthony
Carroll, Charlotte
Carter, James
Cartwright, Ann
Clagart, John
Derrix, Townsend
Dowling, Carter
Ferrell, Joseph
Frank
Fuller, Thomas
Graham, Montgomery
Gray, Thornton
Harper, Thomas
Jackson, William
Kemper-Jackson-Crigley Family
Lee, Lewis
Lucas-Kye-Carr Family
Martin, James H.
Nichols, Christopher "Kit"
Noland, Alfred
Parry, Alfred
Payne, London
Payne, Oscar
Rose, Clara
Russell, Emily
Taylor, Benjamin
Thornton, Lawrence
Triplett, William
Ward, Randall
Williams, Isaac
---
Friends of Freedmenís Cemetery
638 North Alfred Street
Alexandria, Virginia 22314
E-mail: freedmen@juno.com
July 8, 2017