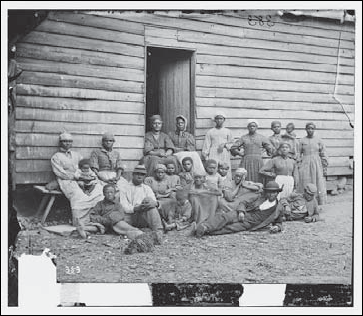 Freedmen, Cumberland Landing, Virginia. Photograph
by James F. Gibson, 1862. Library of Congress, Prints
and Photographs Division, LC-B811-0383.
Memorial Illumination Ceremony
Alexandria Freedmen's Cemetery
This spring, the City of Alexandria will host a re-dedication ceremony honoring the 1,800 African American men, women, and children buried at Alexandria Freedmen's Cemetery from 1864 to 1869. The Freedmen's Cemetery is located on the southwest corner of South Washington and Church streets and after 138 years of neglect is being restored as part of the Woodrow Wilson Bridge Project.
Freedmen were enslaved African Americans who fled north during the Civil War in pursuit of freedom. Thousands of Freedmen sought refuge behind Union lines in towns like Alexandria. They were housed in crowded barracks and shanty towns hastily constructed to accommodate their swelling numbers. For many, the Freedmen's Cemetery was their final resting place.
The re-dedication ceremony will include an illumination of 1,800 candle-lit bags, or luminaries, one for every person buried at the cemetery. Each will be labeled with an individual's name, age and date of death and, once decorated, will celebrate them for the first time since the cemetery was abandoned in 1869. Help remember and honor these heroic people by including your personal tribute on one of the luminaries.
Luminary decorating workshops will be held at the Alexandria Archaeology Museum on Saturday, March 24 and 31 and April 21, from 1 to 4 p.m. Once completed, the bags will be photographed, posted at www.FreedmensCemetery.org, and included in the illumination event. The workshops are free and open to the public. For more information contact the Alexandria Archaeology Museum at 703.838.4399 or archaeology@alexandriava.gov.
The re-dedication ceremony is the beginning of a three-year process in which the City will conduct an archaeological investigation to ensure no graves will be disturbed, followed by the restoration of the cemetery and creation of a memorial park. The Alexandria Freedmen's Memorial Park is scheduled to open in 2010.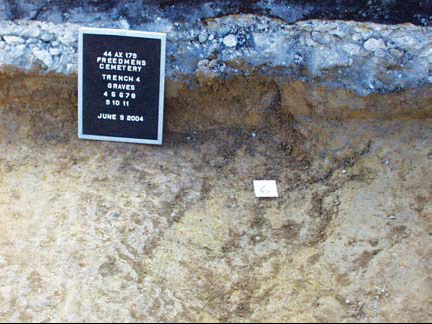 Excavated grave shaft #6. Once located, the graves will be
recorded but not excavated. They will be protected and
incorporated into the Memorial Park scheduled to open in 2010.
CALLING ALL ARTISTS!
Drop by the Alexandria Archaeology Museum and decorate a luminary bag for the rededication of the Alexandria's Freedmen's Cemetery. The Museum is accepting donations of materials suitable for luminary decorating.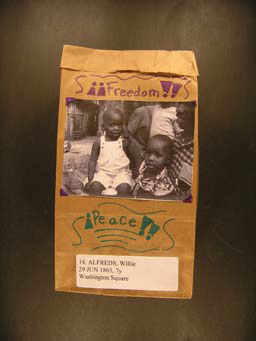 Luminary bag decorated by Tamir Lucas, a 6th
grader from Francis C. Hammond, commemorating 7
year-old Willie Alfreds who died on June 29, 1865.
Become Part of History!
Participate in the Memorial Illumination Ceremony to Re-Dedicate Alexandria Freedmen's Cemetery.
Luminary decorating Workshops Schedule:
Saturday, March 24 & 31 and April 21, from 1 to 4 p.m.
Workshops are free and open to the public
---
Friends of Freedmenís Cemetery
638 North Alfred Street
Alexandria, Virginia 22314
E-mail: freedmen@juno.com
April 29th, 2007